Over the past 30 years, Wharton Equity Partners, and its affiliates, have been involved in over $2 billion worth of transactions. We have built up a reservoir of experience across various business cycles, strategies and property types. Today, this breadth of knowledge, coupled with deep industry relationships, uniquely positions the firm to seize and execute on opportunities not readily apparent to less nimble investors.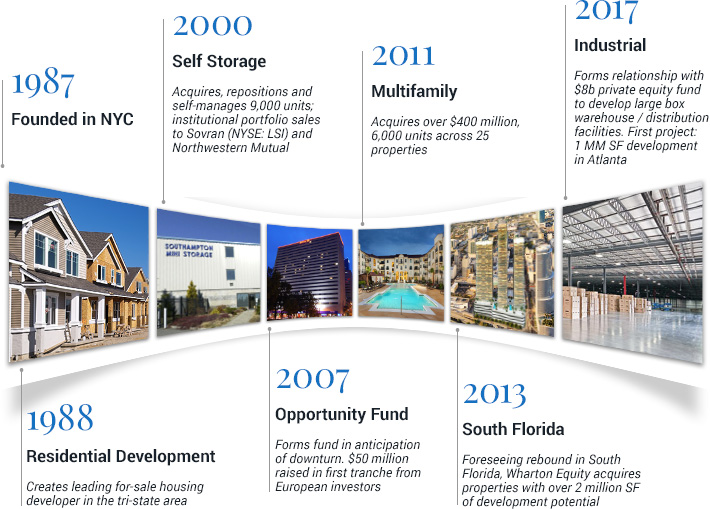 Wharton Equity Partners, founded by Peter C. Lewis and David E. Eisenberg in 1987, had its early roots anchored in the development of larger-scale residential developments in the New York Tri-State area. During that time, both principals played a hands-on role in every aspect of the business (which they carry forth today), including holding construction meetings with sub-contractors in cold on-site trailers in the early dawn, sipping weak coffee from Styrofoam cups. As Wharton Equity's activities grew, the firm became fully integrated with expertise in all aspects of development from land acquisition, zoning, and construction, to marketing and customer relations. Broadening its reach, Wharton Equity expanded its focus to income-producing properties starting with self-storage, and aggregating portfolios in areas like the Hamptons on Long Island and around New York City (over 8,500 units). These culminated in sales to institutional investors, generating internal rates of return in excess of 20%.
As the years progressed, our interests spread into other property types including apartments, hotels, office buildings and retail. Along the way, we formed an institutional opportunity fund in 2008 with European investors to take advantage of the looming downturn. Assets acquired in the fund included such properties as art storage warehouses in New York City and a 600,000 SF hotel and office property in Lexington, KY, purchased from Blackstone. Wharton Equity spearheaded the re-branding of the 365-room hotel component from a Radisson to a Hilton (which included a significant PIP), as well as the renovation of the 250,000 SF office building.
Believing that multifamily would be the sector leading real estate out of the "post-Lehman" recovery based on its experience in other downturns, Wharton Equity aligned itself with institutional investors and made a major push into this sector in 2012, acquiring more than $400 million of value-add assets (primarily in the southeast) over the course of a few years. The firm undertook the upgrading of these properties through enhancements to units, common areas and amenities. Again, being prescient with emerging trends and identifying the nascent rebound in Miami, we moved aggressively in 2013 and purchased a distressed loan on a 2 acre, 2 million SF buildable site in downtown Miami with a New York City hedge fund for $16.25 million. Navigating a complex foreclosure process, we secured title to the land within five months, and recent broker opinions place the property's value in excess of $60 million. This transaction led to Wharton Equity opening an office in Miami where we are now involved in other notable developments in Midtown (18-story high-rise with 194 rental units and 65,000 SF of retail) and a large mixed-use project in Bay Harbor Islands (office, retail and residential rentals).